This still turns up quite a lot.
http://imgur.com/r/vgb/Wx1Ej4q
The caption names 4 actresses but there are 5 in the picture.
I'm fairly sure that the girl sitting on the chair is Marjorie King,
the beautiful brunette in the gorgeous white fullslip stood with a mirror in her hand is Gladys Blake,
stood next to her fully clothed is Lilian Harvey.
Is Jean Allen the blonde with long flowing locks stood in her white fullslip
or is she the girl sitting on the table?
Another still, this time with 8 actresses
https://feetofmud.com/2014/08/14/capitolfest-12-shows-my-weakness/
L to R I don't think the 1st girl was in the previous still
2nd Gladys Blake in the same gorgeous white fullslip
3rd Marjorie King
4th Lilian Harvey
5th to 7th I don't think these were in the previous still
8th Is the same mystery blonde who may or may not be Jean Allen?
Last is from the IMDB and clearly attributed to Lilian Harvey.
http://www.imdb.com/title/tt0024364/mediaviewer/rm910755328
Hi Rhino2_UK
This is where i got the latest photo from it has a back sheet listing the actresses pictured.
http://www.ebay.com/itm/Pre-Code-Musical-Chorus-Girls-Risque-Vintage-Lingerie-Pin-Up-Photograph-1933-NR-/291997638893?hash=item43fc6a60ed:g:67sAAOSwt5hYdm7s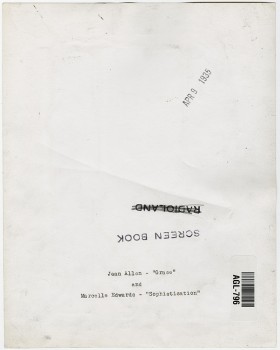 Similar topics
---
Permissions in this forum:
You
cannot
reply to topics in this forum