Ok i thought i would start this topic as many of the members of the old forum always kept a look out for breakfast television be it in the USA, UK or any where around the world.
on Tuesday morning on BBC One (UK) Susanna Reid was wearing a black outfit and what apeared to be black lace trim peeking from under her dress every time she crossed her legs. Its a well known fact that she is a slip wearer as shes worn them and shown them on TV many times. A very classy lady.
Will post still caps here soon.



Posts

: 4


Join date

: 2013-10-25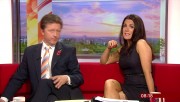 http://www.mediafire.com/download/aywlos3fq6d51b6/susannarHD-291013.avi     
http://uploaded.net/file/p9askn6m
http://dfiles.eu/files/faqfryf7x
credit to MVP, The-sentinel and kucernak



Posts

: 34


Join date

: 2013-08-02



Sorry for the late reply and thanks for posting pic and clip link. Hope every one has a happy new year



Posts

: 4


Join date

: 2013-10-25



Thanks for the picture underscored... I find Susanna Reid an incredibly attractive woman, but seeing a glimpse of lace on that picture is gorgeous even more.
Do you have anymore pictures or clips of her?




Posts

: 9


Join date

: 2013-05-16


Age

: 45


Location

: Lancashire



What a sighting .. The Tonight Show with Jimmy Fallon ...7th Dec 2015. The link below is a still from the show and it lasted a few minutes.

http://www.dailymail.co.uk/tvshowbiz/article-3351183/Claire-Danes-reveals-son-Cyrus-speaks-German-attending-Kindergarten-Berlin-filmed-Homeland.html





Posts

: 1


Join date

: 2016-05-02



re Susanna Reid on 29/10/13 above; a link to several stills of her lace peeking

http://babetastic.co.uk/viewtopic.php?t=26804
Love On A branch Line a British TV mini-series from 1994. In the clip Cathryn Harrison lifts her skirt to adjust her stockings, the viewer briefly sees her white slip.

https://www.youtube.com/watch?v=KTZ0_1lpPgQ
Brigit Forsyth in 'Whatever Happened To The Likely Lads'

http://news.bbcimg.co.uk/media/images/53016000/jpg/_53016569_likelyladsbobthelma.jpg
https://i.imgur.com/0UrleYm.jpg
http://www.tenthplanetevents.co.uk/ekmps/shops/happyhenhomes/resources/Design/brigit-forsyth.jpg
http://www.listal.com/viewimage/11956101
In the opening episode of 'Appletree Yard' Emily Watson is getting ready for an evening out and is seen in a lace-adorned, black fullslip.
What a coincidence Rhino! I came here today because I found some caps of that episode on the TSCelebs forum:
I would love to see a video...  




Posts

: 34


Join date

: 2013-08-02



Great caps, thank you for posting.
What I liked about this scene was she didn't have time to put her dress on before appearing at the top of the stairs to catch her husband before he left. He looked up at her standing there in her fullslip and said "you look nice"

---
Permissions in this forum:
You
cannot
reply to topics in this forum